CISO's Roundtable: Cybersecurity Check-up – the Top Threats Prioritized, and State-of-the-Art Solutions
Virtual Session | December, 2021
Join us for a discussion with the professionals – CISOs – for an overview of the current cybersecurity landscape; the budgetary challenges facing CISO's; and the cybersecurity priorities.
CYBERSECURITY TRENDS: What happened in 2021? What's coming in 2022?
eCRIME.eu Virtual Session | January 2022
What could be more useful than a quick review of the cybersecurity events of the 2021 cyber landscape? We'll also talk about what might be coming our way in 2022!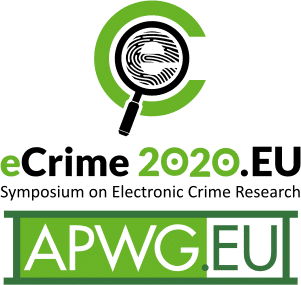 EU Symposium on Electronic Crime Research
Lyon, France | Postponed to 2022
eCrimeEU2020 will present state-of-the-art research into cybercrime investigations, forensic techniques and infrastructure defense against cyber-attacks and manipulation.
Symposium on Global Cybersecurity Awareness
The Hague, Netherlands | Postponed to 2022
Join us for the APWG.EU's fifth annual Symposium on Global Cybersecurity Awareness by sharing your expertise and informing our efforts to make cybersecurity awareness and education a primary global defense and prevention mechanism against cybercrime and other malicious online activities!